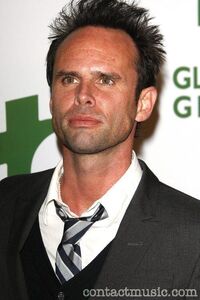 Walton Goggins plays Hunt in Cowboys & Aliens.
Goggins is best known for his portrayal of Detective Shane Vendrell in the FX series The Shield, a role he played from 2002 to the series' conclusion in 2008.
In addition to his acting work, Goggins is also an award winning filmmaker. He has a production company – Ginny Mule Pictures – with his partner Ray McKinnon. Together they have made four films: a short, The Accountant (won the Academy Award in 2001), Chrystal (Sundance Dramatic Competition), Randy and the Mob and That Evening Sun (South By Southwest Special Jury Prize 2009). He is currently working with McKinnon on a new television show, Rectify. Goggins is set to play the lead and AMC Television has bought the pilot script, written by McKinnon.
In May 2010, Goggins was promoted to series regular for Season 2 of Justified on FX. In July, he had a major supporting role as a deadly death row inmate being hunted by the titular antagonists in the film Predators.