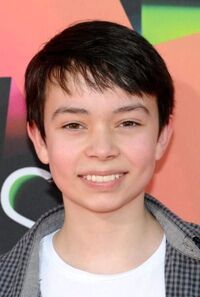 Noah Ringer plays Emmett in Cowboys & Aliens.
Ringer is a young taekwondo practitioner who was born and raised in Dallas, Texas. At age 12, he achieved a first-degree black belt rank with the American Taekwondo Association and is proficient with a variety of Eastern weapons. He is part of a taekwondo club, from which he heard about Paramount Pictures' open casting call to play Aang. For his audition, he sent in a homemade video that depicted him showing off his skills in martial arts. After being signed for The Last Airbender movie, he joined the Creative Artists Agency.
Ringer attended the 2010 Nickelodeon Kids Choice Awards on March 27 with his Airbender cast mates Nicola Peltz, Dev Patel, and Jackson Rathbone to debut the new TV spot for the film. While on site, he was interviewed by the Los Angeles Times about the movie.