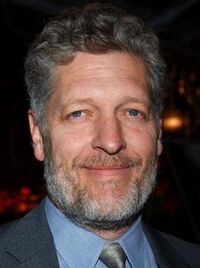 Clancy Brown plays Meacham in Cowboys & Aliens.
Early life
Edit
Brown was born in Urbana, Ohio. His mother, Joyce, was a conductor, composer, and concert pianist, while his father, Clarence J. "Bud" Brown Jr., was an Ohio Congressman and chairman of the board of the Brown Publishing Company, the family-owned newspaper business started by his grandfather, Congressman Clarence J. Brown. He graduated from St. Albans School in Washington, D.C., and earned a scholarship to Northwestern University, where he became a member of the Sigma Chi Fraternity. He was inspired to become an actor by a neighbor who showed him Shakespeare's works.
Brown, who is 6'3" (191 cm), possesses a deep voice and large frame, is often typecast in roles of villains or authority figures. His career has tended to alternate between mainstream TV/cable; major-studio and independent-studio movies; and a large repertoire of voicework for animated and video game roles.
Brown's role as the Kurgan in Highlander made him well known and is arguably one of his best roles to date. Other well-known roles include Captain Byron Hadley in The Shawshank Redemption, Viking Lofgren in the 1983 hit drama movie Bad Boys, Rawhide in The Adventures of Buckaroo Banzai Across the Eighth Dimension (1984), Army mercenary Larry McRose in Extreme Prejudice (1987), vicious killer Steve in Shoot to Kill (1988), a police officer in Michael Jackson's short movie "Speed Demon" (1988), Dead Man Walking (cameo only), Pet Sematary Two as Gus, Career Sergeant Zim in Starship Troopers, (a role he would reprise in the animated television series Roughnecks: Starship Troopers Chronicles), and Captain William Hadley in The Guardian. He also played a role in Flubber as one of the evil henchmen that get harmed by uncontrollably bouncing sports equipment.
Brown has three times played senior prison officers in movies dealing with miscarriages of justice: in The Shawshank Redemption, the tyrannical Capt. Hadley; in The Hurricane, the sympathetic Lt. Williams; and in Last Light as Lt. McMannis. In 2001, he played the wisher man in the hallmark version of Snow White. In 2007, he played the Viking leader opposite Karl Urban in Pathfinder.
He starred in several independent films in 2008: The Burrowers, screened at the Toronto Film Festival in 2008, and released in the US on DVD in April 2009, and The Twenty, which is currently awaiting screening. One of his most recent roles was in Steven Soderbergh's 2009 film The Informant! opposite Matt Damon in which he played an attorney. He also portrayed Alan Smith in Samuel Bayer's 2010 remake of the cult horror film A Nightmare on Elm Street.