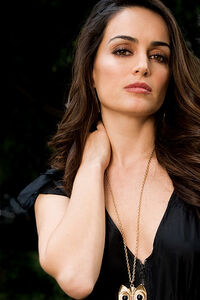 Ana de la Reguera plays Maria in Cowboys & Aliens.
Early life
Edit
Reguera was born in Veracruz, Mexico. Her mother was Miss Veracruz who became a journalist and TV personality. She began her performance arts studies in the Instituto Veracruzano de Cultura and was the host of Pasarela on Televisa Veracruz. She left the Televisa's CEA, and then studied with Rosa María Bianchi, Patricia Reyes Spíndola and Rafael Miranau. She also studied at the Centro de Formación Actoral de TV Azteca (CEFAC).
Her acting career began with her role in the telenovela Azul (1996) followed by Pueblo chico, infierno grande (1997) for which she received the Heraldo award for best female acting, and Desencuentro which was her third telenovela under the direction of Ernesto Alonso.
Tentaciones (1998) marked her beginning with the production company Argos Comunicación. She was immediately offered a role in Destino and Todo por amor, for which she received the Palmas de oro award.
Cara o Cruz was the first telenovela co-production between Argos Comunicación and Telemundo, that was made exclusively for the Hispanic audience living in the United States. It was later rebroadcast in Mexico, by independent channel CNI. She was also seen playing María in the telenovela Por tí for TV Azteca and the mini-series that followed up on Pedro El Escamoso, Como Pedro por su casa which was a co-production between Caracol from Colombia and Telemundo.
Her introduction to film began in Por la libre, under the direction of Juan Carlos de Llaca. Later she acted in the film Un Secreto de Esperanza and in 2003 Ladies Night, alongside Ana Claudia Talancón. In 2005 she played the starring role in Gitanas which aired on Telemundo in the United States.
She is perhaps best known for her role as Sister Encarnación in Nacho Libre, a film by Jared Hess, director of Napoleon Dynamite.