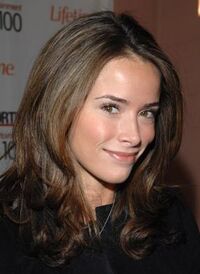 Abigail Spencer plays Alice in Cowboys & Aliens.
Abigail Leigh Spencer (born August 4, 1981) is an American actress. Her first major acting role was playing Rebecca "Becca" Tyree on All My Children. She later starred in Lifetime Television's original series Angela's Eyes, which was cancelled on December 1, 2006. She is also known for her role as the blogging enthusiast in Twix advertisements.
Spencer was born and raised in Gulf Breeze, Florida and is the middle of three children. She has two brothers, Yancy Spencer IV (born c. 1973) and Sterling Spencer (born c. 1986).
Filmography
Edit
All My Children (1970) - Rebecca "Becca" Tyree (1999–2001)
Angela's Eyes (2006) - Angela Henson
Mad Men (2007) - Suzanne Farrell (2009)
Rex is Not Your Lawyer (2010) - unknown name
HawthoRNe (2010) - Erin Jameson
The 27th Annual Daytime Emmy Awards (2000) - herself
CSI: Crime Scene Investigation (2005) - Becky Lester
Killer Instinct (2006) - Violet Summers
Gilmore Girls (2006) - Megan
Ghost Whisperer (2007) - Cindy Brown
The Wedding Bells (2007) - Tricia
How I Met Your Mother (2007) - Blah Blah
Bones (2008) - Phillipa Fitz
My Boys (2007) - Lyssa
Moonlight (2008) - Simone Walker
Private Practice (2009)
The Glades (2010)
Campfire Stories (2001) - Melissa
Graduation Night (2003) - female lead
Truth and Dare (2003) - Skye
Fathers and Sons (2005) - Clarissa
A Coat of Snow (2005) - Sandy
Hooked (2006) - Wendy
Introducing Lennie Rose (2006) - Lennie Rose
Jekyll (2007) - Talia Carew
In My Sleep (2007) - Gwen
The Captain (2007) - Claire Tanner
Ivory (2008) - Alicia
Cowboys and Aliens (2010)